Hey there! Let's talk about the amazingness of a hanging hammock chair! This unique and versatile accessory is perfect for both indoor and outdoor decor. Whether you want to spruce up your private house, garden, or apartment, a hammock swing chair adds a cozy and homey feel to your space.
Just imagine snuggling up under a warm blanket in your hammock chair, daydreaming about the summer sun. It's the perfect place to take a nap or get lost in a good book while listening to your favorite tunes.
And the best part? A hammock chair can fit in anywhere - from a playroom to a college dorm room, to a spot in your living room for ultimate relaxation. It's like bringing a vacation vibe right into your home.
During warm weather, you can hang your hammock chair outside on your terrace or in your garden for a chill outdoor experience. And when the temperature drops, you can cozy up inside in a macrame hammock made of durable cotton rope in a bohemian chic style.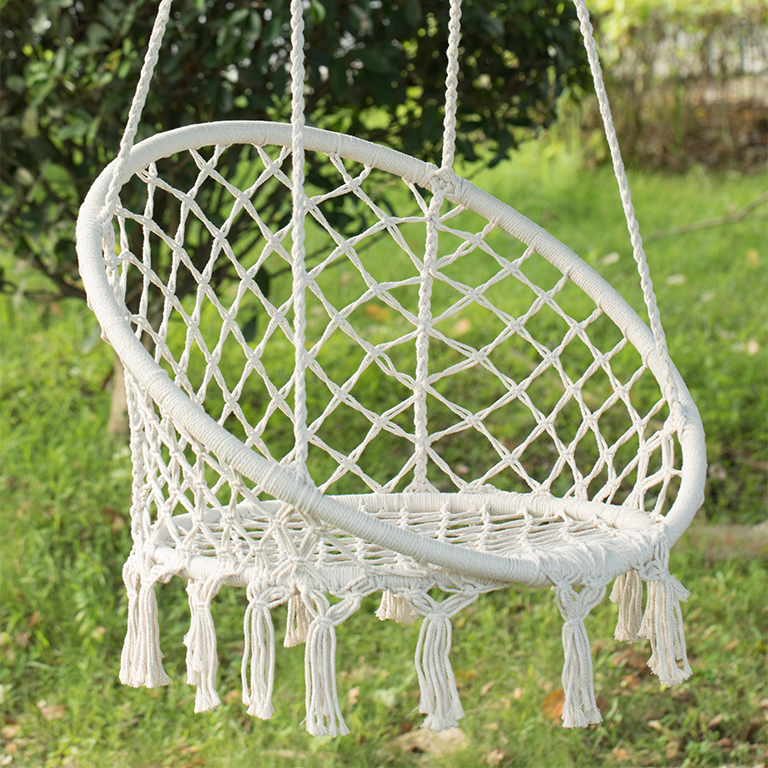 Round Hanging Hammock Cotton Rope Macrame Swing Chair for Indoor and Outdoor
And if you're wondering why you should give a hammock as a gift, here are ten reasons why:
It's a unique and original gift that will surprise your family and friends.
It's practical and can be used year-round.
It's perfect for unwinding and relaxing after a long day of work or physical activity.
It's a great gift for outdoorsy people who love hiking, fishing, and camping.
It's a fun addition to family games and activities.
A double hammock is an excellent gift for couples.
It's a must-have for anyone who loves spending time in their garden.
It's a great gift for creative individuals who appreciate original designs.
It's a comfortable sleeping option both indoors and outdoors.
It's a stylish and trendy element to add to any interior.
So go ahead, get yourself a hammock chair, or give the gift of ultimate relaxation and comfort to someone you care about!